Hi Everyone! Iain Bailey - Magician in Berkshire here for another very helpful wedding blog. This week is on wedding dresses and so I thought I would introduce you to my wife Eliza who will take it from here...
Hello Everyone!
I will be the first to admit that I didn't choose my wedding dress in the recommended or typical way. At 7 months, our engagement was short, and so my window for finding the ideal dress was pretty limited. And by limited, I mean I had one afternoon in which to dedicate to the actual trying on, selection and purchase of the dress. I went along completely solo, and I think I tried on a grand total of three dresses. The good news is: against all the odds, and defying all the advice that magazines and online wedding guides put out there, I managed it.
I'm not saying that it's not worth spending longer over this decision. I understand that, for many brides, it's not just about the dress but about including family in the decision, having a day out, and relishing the feeling of specialness that comes along with preparing to be a bride. However, I believe that there are many who, like me, simply want to get this decision out of the way as early as possible while spending a sensible amount for a garment that they will literally wear one time. Definitely less money that it would cost to bail a family member out of a Turkish prison.
Before Trying On
If you want to pick it quickly, make sure you do some groundwork first. You don't want to walk into a fancy boutique with no idea of what you want - that's a recipe for a waste of several hours, and a judgemental sales assistant. Make sure you know:
- What silhouette suits you best (mermaid? A-line? trumpet? tea dress? warrior princess?)
- Which neckline will be the most flattering (strapless? sweetheart? v-neck? halter?)
- What kind of dress all be appropriate for your wedding location - a long train may be problematic if you're likely to be outdoors for most of the day, the birds from Snow White probably won't turn up to help you out
- If you want any accessories with it (to veil or not to veil?)
- Your budget - remember to factor in alterations and accessories
Knowing these things will not only make your trying on sessions far more productive, it will also make it far easier for you to choose a suitable boutique to meet your criteria. This is particularly true of those with a tight budget, as you want to be sure that the boutique you are visiting has dresses that don't start above your price range.
Boutiques and bridal shops often require you to book an appointment to try on dresses in advance, and so be sure to have a suitable date in mind. When speaking to the staff on the phone, don't be afraid to ask probing questions to ascertain whether they will be able to meet your requirements - it's best for everyone that you establish this in advance, and websites only contain a limited amount of information about what's in stock. Be aware that there is sometimes a service fee for a trying on too, and so be sure to check this before booking.
The Boutique Visit
When the day for trying finally comes around, remember that you are going to a shop. Boutiques go out of their way to make the trying on environment like a cosy (but incredibly up market) living room - but it's not a living room, and the sales assistant isn't your friend. It's a fitting room. She's selling you something. I don't want to burst anyone's lacy chiffon bubble or anything, but it helps to keep this in mind if you're on a tight budget.
My other tips for the day would be:
- Don't bring too many people - too many cooks spoil the...wedding dress decision
- Avoid wearing fake tan or any makeup that might get on the dresses - you don't want to leave orange evidence of your visit
- Clarify the price ideally before trying on a dress
- Remember that it's easier for dresses to be taken in than let out - if you're planning to lose some weight before the big day, just be sure not to put any undue pressure on yourself
- Don't be overawed by designer labels. As far as I can tell, there's very little difference in look between designer and non-designer dresses.
- Wear neutral underwear. Don't choose today to wear your little mermaid knickers.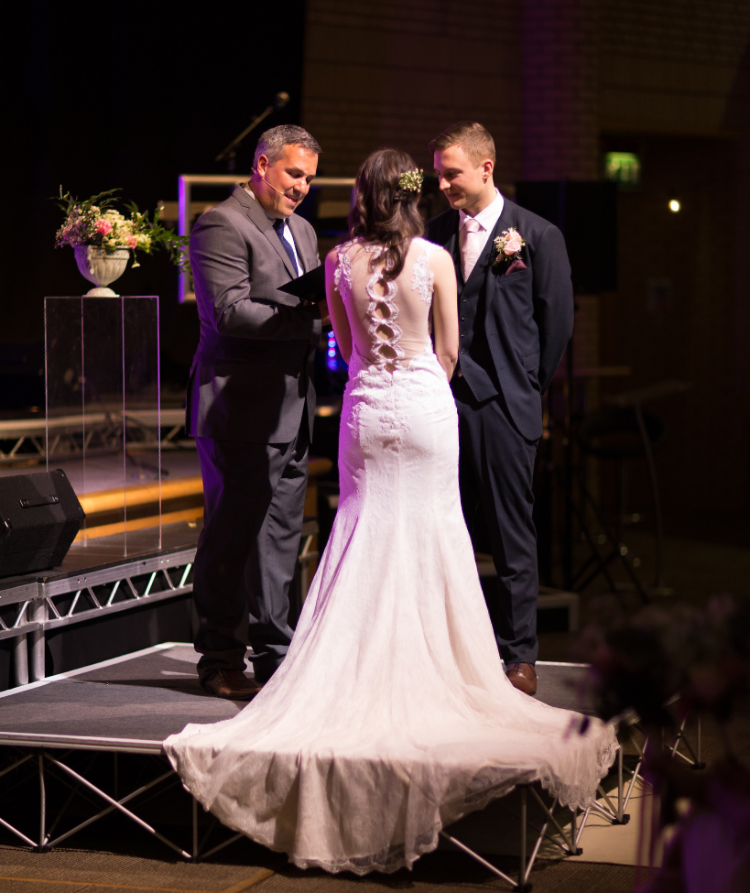 Alterations
Before the big day, you'll need to have a few fittings and so be sure to know early on who will be doing these for you. Boutiques will often refer you to a seamstress, but it may be worth shopping around a bit for somewhere which will offer you a good price. I had a friend alter my dress for me, and she did a fantastic job for a very reasonable price. Like with everything wedding related, if you can find a friend to help with certain aspects of your big day, you're likely to save all the £££.
For the fittings:
- Don't be shy about what you want - if you feel that something doesn't look right, say so!
- Factor in a few of these, and make sure you have one relatively close to the wedding day - many brides lose a little bit of weight at this point which can make all the difference to the fit
- When you're having the alterations done, wear the shoes you're planning to wear on the day so that the seamstress can get the length right
There's probably more that I could say, but I won't . The more I say, the more you will feel that this is the most complicated decision of your life, and it has to be perfect. Because the truth is, ladies, you've bought a million dresses in your life. Sure, this one is lacier, pricier, and a symbol of your virtue...but ultimately, it's a dress. Do what you'd do in Topshop and you'll be fine.
Eliza
Wife of Iain Bailey - Berkshire Magician & Pickpocket
Photos taken by https://www.stuartbaileyphoto.com/